If your business is ready to tap into the vast potential of the Internet, we can offer you solutions that will enable your business to connect to the Internet in a simple and efficient manner. Here are some of our products and services available for the e business entrepreneur.
Basic Broadband Internet Access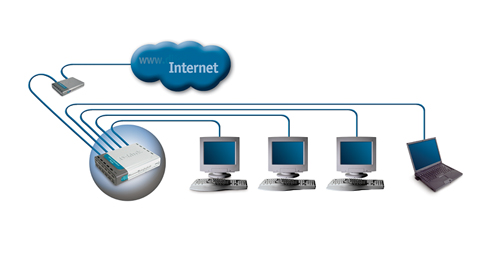 A Basic Local Area Network connected to the Internet via a broadband ADSL modem and a router switch
[Diagram courtesy of D-Link]
With the cost of broadband becoming very affordable for business, this swift and effective first step to enabling your enterprise for e business is a relatively simple one. Micronet Solutions has set up many broadband connections for its clients and offer a range of solutions and a choice of broadband internet service providers (ISPs) so that you can select the option that is most suitable for your business.
Email and Web Hosting
Once your organisation has internet access, you may wish to establish a web site to promote your business. This is where Micronet Solutions can help as we provide a range of basic hosting for email and web sites through to full blown e business sites that are capable of transacting business and collecting payment from your customers.
Each business has its own needs, so please talk to us to determine what your business needs are and what kind of hosting services you will need.
Please click here to sign up for our web hosting services!
In House Servers
At some point in time, your business may be large enough to require your own dedicated servers for your e business. Micronet Solutions offer server co-location services at our data centre as well as the building servers that will be located in your own premises.
Conclusion
As you can see, Micronet Solutions has something for everyone in the e business arena. Whether you are just starting out or whether you are ready to do big business on the Internet, we can assist you in achieving your goals. Please contact us before you embark on this exciting dimension to business!