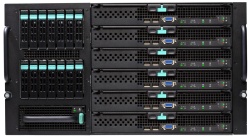 Intel® Modular Server System
Is your small to midsize business a growing company with demanding IT needs and a limited budget? Do you have more pressing concerns than constantly servicing your IT? Are you looking for a solution that solves these problems... and more?
This all-in-one system, built on Intel® Multi-Flex Technology, supports six compute modules, each supporting up to two Multi-Core Intel® Xeon® 5000 sequence processors, and up to 32 GB of memory, virtualised shared storage with fourteen hot-swap hard disk drives, an integrated management module for centralised management, redundant Ethernet switches and storage controllers. Click here for 3D model video (Windows Media).
Check out the ideal partner to the Intel® Modular Server System, Windows Essential Server Solutions.
Please contact us to find out more!