Microsoft Windows XP Preofessional x64
Microsoft Windows XP Professional x64 is designed to work with 64-bit processors from AMD and Intel that support the x64 extensions to the x86 architecture. These include the Athlon 64, Athlon 64 FX, Mobile Athlon 64, Turion 64, and Opteron processors from AMD, and the Xeon with EM64T and Pentium 4 with EM64T from Intel.
The downloadable trial version of Windows XP Professional x64 Edition is an ISO image file, you can't just copy it to a CD, you need to actually burn the image to the CD.
Those of you who use notebook/laptop computers are not left out either. Click here to find out about upgrading an AMD64 Turion Laptop to Windows XP x64 Edition
Top 5 reasons to get to Windows XP Professional x64 Edition. Here's why you should consider using this version of Windows.
The Windows XP Professional x64 Edition trial software download is available at no charge. Click here

Get more from your PC
NVIDIA nForce™4 MCPs (media and communications processors) deliver unbelievable PC performance and unmatched PC security. NVIDIA nForce4 MCPs bring the latest PCI Express™ bus technology to AMD platforms along with cutting-edge advancements from NVIDIA like NVIDIA® SLI™ multi-GPU technology, NVIDIA® ActiveArmor™—a secure networking engine—and the latest in storage solutions including support for the new SATA 3Gb/s drives. Click here for more info!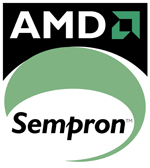 AMD has announced the availability of AMD Sempron™ processors, a new family of processors that redefine everyday computing for value-conscious buyers of desktop and notebook PCs. The AMD Sempron and Mobile AMD Sempron processors are designed to deliver best-in-class performance and a full-feature set to meet the evolving day-to-day computing needs of home and business PC users.
The day-to-day computing needs of home and business users have evolved from basic e-mail, Web browsing and word processing to downloading music, photo editing, movie viewing, Web conferencing, and advanced office productivity. AMD is delivering the AMD Sempron processor family to meet the evolving everyday computing needs of notebook and desktop computer users.
Acer, Medion, Twinhead, and many more OEMs and system builders are also expected to offer AMD Sempron processor-based notebook and desktop systems in the second half of this year.

AMD Athlon™ 64 processors, for those who need performance computing, will continue to be offered for outstanding 32-bit performance, capability for tomorrow's 64-bit applications, and Enhanced Virus Protection in conjunction with the upcoming Windows® XP Service Pack 2.

Intel Corporation has released its new Pentium 4 platform. The new Intel 945 and 955 chipsets feature exciting new technologies such as PCI Express, Matrix Storage, DDR-II RAM support and upgraded integrated graphics and sound. Please check out our feature story here!


If you are still using illegal, counterfeit and pirated software you will have to face the consequences of the Copyright Act 1997 if you are caught. If you need guidance on how to legalise your software please contact us or visit the Business Software Alliance Web Site.
Lost? Information Technology (IT) is not an easy thing to grasp and master. Let us help you if you are unsure as to what is best for your home or office. Let us help you to separate the useful from the useless. Let us help you make IT work for you and not letting it be a white elephant or expensive executive status symbol!